In early days, dog ear cropping were cropped very short. The technique of Dog Ear Cropping was clumsy with no regard to balance or aesthetics. With the development of anesthesia, cropping techniques became more sophisticated and "artistic". When cropping could be done as the puppy "slept", more time and attention could be placed on using the scalpel to develop certain lines and shapes.
Dog fanciers that support dog ear cropping defend it as being beneficial for the dog's ear health. They believe dog ear cropping have fewer incidences of ear infections because of increased light and air circulation.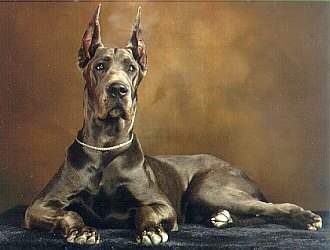 She will probably be required to stay a minimum of one night in the hospital following the procedure. Often it is advisable to leave her for several days to be treated for any pain and allow her to get used to the aluminum apparatus that will keep her ears standing for now.
Ears can bleed easily as they are quite vascular and can be messy for a few days after the procedure. Your veterinarian is equipped to address all of these concerns better than you can at home.
Surgery
Dog Ear Cropping surgery involves reshaping, sculpturing and contouring the outer ear flap in order to achieve an dog ear cropping that will be erect, balanced and in proportion to the dog's head and body. Your Great Dane will not be able to eat or drink anything 12 hours before the surgery. Food and water can cause vomiting and aspiration (inhaling of vomit) once the puppy is sedated. This can be fatal. Be sure to withhold food after dinner the night before her surgery. Make sure and close the toliet lid. Remember, it is for her own good.
Once she is sedated the ear is marked where the incisions will be made and once they are even the ears will be cut. The incision begins at the top of the ear and finishes close to the head.
The ear is sutured and disinfected. An aluminum rack or even an inverted paper cup, will be glued and taped in a harness pattern over and around the puppy's head.
After Care
This is where you come in, you need to make sure you are up for this journey before hand. The after-care will usually last until the puppy is five or six months of age but can continue up to a year or even longer.
The ears will tend to bleed for a few days, they will be painful, and the puppy will knock her head around trying to get the brace off. Reasure your dog, talk loving and calmly to her to help keep her relaxed. This rack, whatever type she comes home with, will need to stay on for about 21 days.
While they are healing, you should use diluted betadine to disinfect the ear edges twice a day. If they have heavy scabs you might use a very small amount of antibiotic ointment but be very careful not to get it on the tape. The longer you can keep from re-wrapping the ears the better.
The puppy will return to the vet for suture removal at 7 days post surgery. Even a couple days later may cause permanent scarring to the ears.
Ear Taping
Ear taping consists of taping the ears in such a way that they stand erect. The tape is usually left on for a week to ten days, removed for a couple of days and then reapplied. This is done consistently until the ears are standing. It is time consuming, but, worth it.
Different vets use different methods of stabilizing the ears immediately after cropping. Few will change their methods becuase you ask, but here are some of the ways it's done. My personal experience has always been with "racks". They are formed out of stiff wire (often wire coat hangers) and shaped so the ears can be taped erect to them directly on top of the head. If properly taped, they cause little discomfort to the puppy. They are left on for two weeks. My only objection to racks is that they can become caught on things. I've seen Great Dane puppies get them stuck in the ground and severely twist their necks while playing.
Some vets will tape the ears flat over the top of the head and then apply a bandage.
The other method use Styrofoam cups stacked one atop the other and then reinforced with tape. They are set on top of the head and the ears are taped directly to their sides. I think that this looks like the best method of all. People I have discussed it with recommend it highly. The cups are loose enough to "give" when pushed around in play, and being very lightweight, the pups seem to hardly know they are there.

References and Links
Puppies Place Help your puppy find his place in your heart and your home
Dog Ear Cropping The GP Companion Series
Pet Place We are crazy about pets
The Pet Center The Internet Animal Hospital All About Dog Ear Cropping
Book: A New Owner's Guide to Great Danes by: Jill Swedlow
Table of Contents
Based on the findings of the five-year prospective study of Volvulus (Bloat) or gastric dilatation-volvulus (GDV) at Purdue University, graphs were drawn to help owners of large (50-99 lbs) and giant (>99 lbs) breed dogs estimate their dog's lifetime risk of developing GDV
Natural Dog Food is the Best Food you can give your dog. Processed Dog Food Contains food not fit for consumption.
Hip dysplasia in dogs is the most common cause of rear leg lameness in dogs. The highest incidence occurs in large-breed dogs.
Great Dane Genetics
Heat Exhaustion and Heat stroke is an emergency and requires immediate treatment. Because dogs do not sweat (except to a minor degree through their foot pads), they do not tolerate high environmental temperatures as well as humans do. Dogs depend upon panting to exchange warm air for cool air. But when air temperature is close to body temperature, cooling by panting is not an efficient process.