Therapy Dogs


Great Dane therapy dog is named to N.J. veterinary group's hall of fame

by Cullen Nutt/The Star-Ledger Wednesday July 22, 2009, 9:45 PM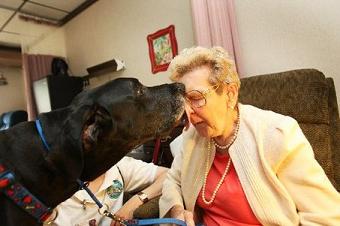 Nose to nose with a 130-pound Great Dane named Jethro, petite 89-year-old Enita Lembo does not flinch. Jethro, a hound the size of a miniature horse, is one of her best friends. Lembo leans forward to meet Jethro's fleshy wet tongue, which slaps across her nose and cheeks. She squeals with delight. "Oh, I love this dog," Lembo gushes.
Jethro is a therapy dog that spends time with Lembo and dozens of other patients during a two-hour visit each Sunday at Oakland Care Center, a 215-bed nursing home on a leafy hillside in Oakland. Developmentally disabled residents also welcome Jethro and his owner Kathy Wyder of Oakland once a month at Spectrum for Living in Closter.
Jethro is your typical therapy dog, with a friendly nature and calm demeanor, except for his plus-sized presence. Despite being nearly six-feet tall when standing on his hind legs, no one shows any hesitation when Jethro approaches. To them, he is a gentle giant.
Jethro's work, according to the New Jersey Veterinary Medical Association, is a prime example of how animals, even big ones, can affect people in profound ways. The veterinary group selected Jethro as the only therapy dog, and one of the five animals out of 40 nominated, to enter the group's hall of fame this year.
"Jethro is so gentle and so interested in the people he works with. We were very impressed with that," said Paul Wolcott, the communications director for the association.
Therapy dogs, which provide social interaction, mental stimulation and even physical benefits like lowering blood pressure, can come from thousands of different breeds. Most, experts say, are smaller or medium-sized animals. Few are Great Danes.
Ursula Kemp, president of Therapy Dogs International, a not-for-profit organization based in Flanders that certifies between 2,000 and 3,000 owners and their dogs each year to conduct therapy visits, said of the 20,000 dogs they have certified, only 141 were Great Danes.
Kemp said the king-sized canines often are not chosen as therapy dogs because they can be physically intimidating. "A lot of people go to smaller dogs," Kemp said.
Not so Jethro.




During his nursing home visits, Jethro trots silently from room to room. He licks the faces of patients who like it and dutifully spares those who don't. If anything, his size is an asset to wheelchair-bound and bedridden patients who cannot bend down.

"The residents truly look forward to his visits," the center's administrator, Alyse Jasinski, said. Winifred Hopper, 88, and Florence Bazewicz, 83, got the same treatment from Jethro afforded to Lembo: lots of licking and abundant love.

Later, Jethro sat patiently while Walter Kornhoff, 94, who prefers not to be licked, petted him. Jethro, who barks at no one but squirrels and mailmen, is not easily distracted on the job unless food is around. On a recent visit, Jethro bolted past a patient and towards a specific spot in one room where the cookies used to be kept. They have since hidden them in a different location.

Another patient made it a habit to feed Jethro a turkey sandwich during every visit, which Jethro came to expect. That patient has since passed away. Born Sept. 11, 2004, Jethro was something of a miracle. Wyder said she and her husband Steve "rescued" the sickly Great Dane from a pet store. He nearly died two days later.

After the Wyders nursed Jethro back to health, they anointed him the best suited of their four dogs (they have one other Great Dane and two mutts) to serve in therapy because of his unique temperament. When Kathy heard through her work at the veterinary hospital that the home in Oakland was looking for a dog to visit regularly, she jumped on the opportunity to volunteer and follow through on a long-held ambition.

Jethro was certified by Kemp's organization about two and a half years ago. He had to pass a battery of tests to be certified, including one in which two garbage can lids were smashed together, cymbal style, behind him. Jethro whirled around when he heard the sound, but did not panic, allowing him to pass the test.

Kemp said behavior and temperament are the most important elements of a good therapy dog. "The dog needs to behave very well. It has to want to go to people, otherwise the miracle doesn't happen."

Wyder said around Jethro, miracles do happen. In the high-security ward, where patients with severe dementia are treated, Wyder said one woman who doesn't speak, not even to her children, talks to Jethro.

"Handsome!" the woman blurts out when Jethro greets her.

Reference: This story comes from the New Jersey Real-Time News Breaking Local News from New Jersey