Bloat
The most common sign of bloat

(Gastric Torsion) is distention or swelling of the abdomen, but it is not always present. The dog will appear restless and will usually try to vomit, bringing up only foam. He may want to dig and may appear to be in great pain. If you even suspect that your dog might be have Gastric Torsion, rush him to the vet or emergency clinic ASAP! You will have only about a half an hour prior to irreparable damage or death.
It is a good idea to discuss this possibility with your vet prior to facing an emergency.
Wikipedia Definition of Bloat



This is what "Wikipedia" says about Gastric Torsion, bloat is a medical condition in which the stomach becomes overstretched by excessive gas content. It is also commonly referred to as, gastric torsion, and gastric dilatation-volvulus (GDV) when the stomach is also twisted.

The word bloat is often used as a general term to cover gas distension of the stomach with or without twisting. In dogs, gas accumulation in the stomach may cause or be caused by a volvulus, or twisting, of the stomach, which prevents gas from escaping.

Deep-chested breeds are especially at risk. Mortality rates in dogs range from 10 to 60 percent, even with treatment. With surgery, the mortality rate is 15 to 33 percent.

The five breeds at greatest risk are Great Danes, Weimaraners, St. Bernards, Gordon Setters, and Irish Setters. In fact, the lifetime risk for a Great Dane to develop bloat has been estimated to be close to 37 percent. Standard Poodles are also at risk for this health problem, as are Doberman Pinschers and Rottweilers. Basset Hounds have the greatest risk for dogs less than 23 kg/50 lbs.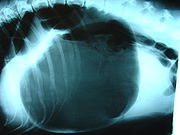 This is an X-ray of a dog with bloat. Note the classic "double bubble" pattern indicating that stomach torsion has occurred in this case.










Causes of Gastric Torsion
Gastric Torsion in dogs is likely caused by a multitude of factors, but in all cases the immediate prerequisite is a dysfunction of the sphincter between the esophagus and stomach and an obstruction of outflow through the pylorus. Some of the more widely acknowledged factors for developing bloat include increased age, breed, having a deep and narrow chest, stress, eating foods such as kibble that expand in the stomach, overfeeding, and other causes of gastrointestinal disease and distress.
Studies have indicated that the risk of bloat in dogs perceived as happy by their owners is decreased, and increased in dogs perceived as fearful. This may be due to the physiological effects of the dog's personality on the function and motility of the gastrointestinal system. Dogs with inflammatory bowel disease may be at an increased risk for bloat. End of quote from Wikipedia"
During Gastric Torsion the stomach fills with gas and, for some as yet unknown reason, cannot expel the gas.
Shock will be the first life-threatening event that happens in your dog. This is because the swollen stomach puts pressure on the large veins in the abdomen that carry blood back to the heart. Without proper return of blood, the output of blood from the heart is diminished, and the tissues are deprived of blood and oxygen. This will cause the stomach wall to be deprived of adequate circulation. If the blood supply is not quickly returned, the walls of the stomach begin to die and the wall may rupture.
If volvulus (a twisting of the intestine upon itself that causes obstruction) occurs, the spleen's blood supply will also be impaired. This organ is attached to the stomach wall and shares some large blood vessels. When the stomach twists, the spleen is also rotated to an abnormal position and its vessels are compressed.
When the stomach is distended, digestion stops. This results in the accumulation of toxins that are normally removed from the intestinal tract. These toxins activate several chemicals which cause inflammation, and the toxins are absorbed into circulation. This causes problems with the blood clotting factors so that inappropriate clotting occurs within blood vessels. This is called disseminated intravascular coagulation (DIC) and is usually fatal.
To date the causes are still unknown.
The Purdue study has suggested that dogs fed a diet full of variety and who have calmer dispositions are at a lesser risk. Feeding a minimum of 2 meals a day, waiting 1 hour before and after feeding to exercise, and perhaps soaking the food are also thought to be of some help to prevent bloat.
The most effective preventative is a gastropexy. This is a surgical procedure where the stomach wall is securely attached to the abdominal wall. The adhesions formed after surgery further help to anchor the stomach so it cannot torsion. You should discuss this procedure with your vet.
In a study of bloat conducted at the Veterinary school at Purdue University, purebred dogs were 3 times more likely to bloat as were mixed breed dogs!
2 Important Reminders
If your regular vet does not have a 24-hour emergency service, know which nearby vet you would use. Keep the phone number handy.
Always keep a product with simethicone on hand (e.g., Mylanta Gas (not regular Mylanta), Gas-X, etc.) in case your dog has gas. If you can reduce or slow the gas, you've probably bought yourself a little more time to get to a vet if your dog is bloating.